An unprecedented crisis in Pakistan and why the people are up in arms against the establishment
While recently a Pakistan daily praised Prime Minister Narendra Modi's policies, former Pakistan PM, Imran Khan also lauded PM Modi's foreign policy calling it independent
New Delhi, Jan 17: Pakistan is plagued with all sorts of crisis ranging from food to economy to terrorism. On January 12 a video of a man crying due to extreme food crisis was circulated across the country.
In the video the man is seen crying and criticising the administration of the country for the shortage of wheat and flour. He states that the crisis is state-manufactured and not natural.
The social media in Pakistan has been filled with videos that show the pain and anger of the citizens. They go on to accuse the government of making their lives miserable.
A wave of terror:
Outlawed groups have upped the ante in Pakistan. Terror groups such as the Tehreek-e-Taliban, Islamic State and the Gul Bahadur Group have unleashed terror at will. The citizens of the country have been living with a rise in terror strikes and this has led to thousands of people in South Waziristan district of Pakistan staging protests. Political workers, social activists, traders and youth took part in protests and chanted slogans for peace.
Abductions, conversions and forced marriages: UN urges Pakistan to act against coerced actions
There have also been reports of the TTP demanding ransom from a government contractor in Rawalpindi's Dhamial. When he refused to pay the amount of Rs 15 million, his house was attacked.
The Pashtuns of South Waziristan came out in large numbers in Wana recently to protest against what they called the Talibanisation of their areas. Our people refuse to be used as cannon fodder and scapegoats in the new great game being imposed on the region," North Waziristan lawmaker Mohsin Dawar said in a tweet.
The statistics for 2022 are grim and the TTP has killed and injured 1,000 people that year, the Khaama Press reported.
The fall of the economy:
Pakistan remains in the grip of a foreign exchange crisis. While this was the scenario in 2022, the year 2023 appears to be no different. The Dawn reported that on January 6, forex reserves held by the State Bank of Pakistan plunged to $4.343 billion which is enough to cover just three weeks of imports after the country repaid $1 billion commercial loans to two UAE based banks.
Maleeha Lodhi, a former ambassador to the US, UK and UN writes that she had put together a book two decades ago. The late Meekal Ahmed one of Pakistan's most distinguished economics contributed a chapter titled An economic crisis state. He wrote that the economic management in Pakistan has steadily deteriorated to the point where the economy has lurched from one financial crisis to next. Bad management and poor governance are the reasons for this, he said.
How PM Modi's old clip is being used as a weapon by Imran Khan's PTI to target Pakistan govt
Lodhi points out that living of other people's money is hardly a national achievement. She also says that while at one point the dependance was on the West, now it is China. She concludes by saying that the habit of depending on others has become so deeply entrenched in the country's political culture that there is little if any questioning among those in power for that mattering the establishment whose leaders join in and often spearhead the effort to seek lifeline funds from friendly nations.
Recommended Video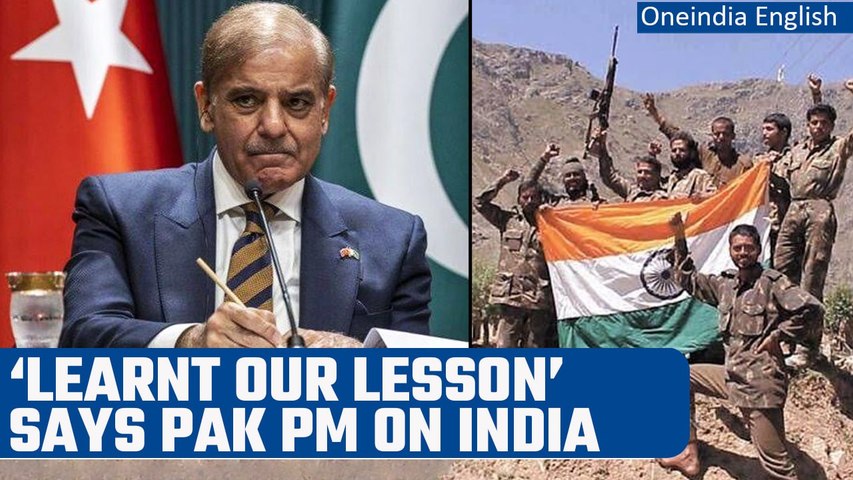 Pakistan's PM Shehbaz Sharif says 'we have learned our lesson' against India | Oneindia News *News
The food crisis:
Pakistan has been unable to fund imports, containers of essential food items, raw materials and medical equipment are held at the Karachi port because banks have refused to issue new letters of credit for importers.
The country is ravaged by its worst flour crisis. There have been stampedes reported at Khyber Paktunkhwa, Balochistan and Sindh for grain and flour.
PoK activist, Amjad Ayub Mirza said that the people are on the streets because there have no food, no flour. He also said that the price of wheat in PoK has increased by RS 1,200 in a single day.
The people have become so desperate that they are braving heavy snowfall and severe winter to stage protest. 'People are demanding supply of flour in the bitter cold in Neelam Valley of PoK. Pakistan has removed subsidy on all food items for PoK and people are not able to buy flour. The protesters have warned of taking violent steps against the Pakistani government if their demands are not met,' Professor Sajjad Raja said on Twitter.
To impress Pakistan boss, Naushad, Jagjit film video of them killing right wing activist
Anger against army:
There have also been protests in Gilgit-Baltistan over allegations of the Pakistan Army grabbing land. The people are saying that the law passed in 1974 giving every Pakistan citizen to buy land in Gilgit-Baltistan is hurting them.
There have been atrocities by the army with the people alleging that their land has been occupied. While the Pakistan army has been grabbing land for long, this is the first time that demonstrations are taking place in such a large scale.
The locals have accused the ISI and army of grabbing land from the locals for a very long time. This time the residents have made it clear that they will not give in and would fight for their rights come what may. There has been huge rise in the anti-Pakistan sentiment due to raising unemployment, high inflation and illegal taxation.
A praise for Narendra Modi:
Amidst the raging crisis, a leading Pakistan daily praised Prime Minister Narendra Modi and said that he brought India to the point where the nation has begun to cast a wider net of its influence and impact. The Op-ed column said that under PM modi, India's foreign policy has treaded skilfully and its GDP has grown to over three trillion USD. The Express Tribune also said that India is a preferred destination for all investors.
Shahzad Chaudhary while citing data in his write up said that India's system of governance has withstood the test of time and proven its resilience around fundamental essentials to a resolute democracy. Modi has done something to brand India that none before him could manage. He further said that India does what it feels and to the extent, it needs.
In November former Pakistan prime minister, Imran Khan praised India's foreign policy while calling it free and independent. I must take the example of India. The country became free with all of us and now look at its foreign policy. It pursues a free and independent foreign policy. India stood by its decision to buy oil from Russia despite opposition from the US, Imran Khan also said.
Story first published: Tuesday, January 17, 2023, 12:18 [IST]