This is the national capital, what message are we sending: SC on Delhi air pollution
New Delhi, Nov 24: The Supreme Court came down heavily on the Centre and state bureaucracy and questioned what is being done about the air pollution in Delhi.
This crisis needs a scientific study and mere ad-hoc measures won't do, the court also said. Even if the pollution level goes down now, we will continue to hear this case and issue directions, the court also said.
This is the national capital. Look at the signal we are sending to the world. You have to predict the situation based on statistics and take action in anticipation so that the situation does not go severe," the Supreme Court said.
There needs to be a statistical model. Now there are supercomputers, the court observed while adding that the city's Air Quality Index was in the poor category. The acceptable AQI for the national capital must be defined the court added.
The court further said that due to the seriousness of the issue it will continue to hear this matter. The court asked the centre to continue the measures for controlling air pollution for the next two-three days.
"We are not going to close this case. Even if pollution goes down now, we will continue to hear this case and issue directions. Take the measures for next three days. We will hear it again on Monday. In the meantime if situation improves, lift some bans," the court added.
The Bench headed by Chief Justice of India, N V Ramanna said asked, "has there been any study on how much stubble has been removed in Punjab, Haryana, and UP? This is going to be a big problem.
Recommended Video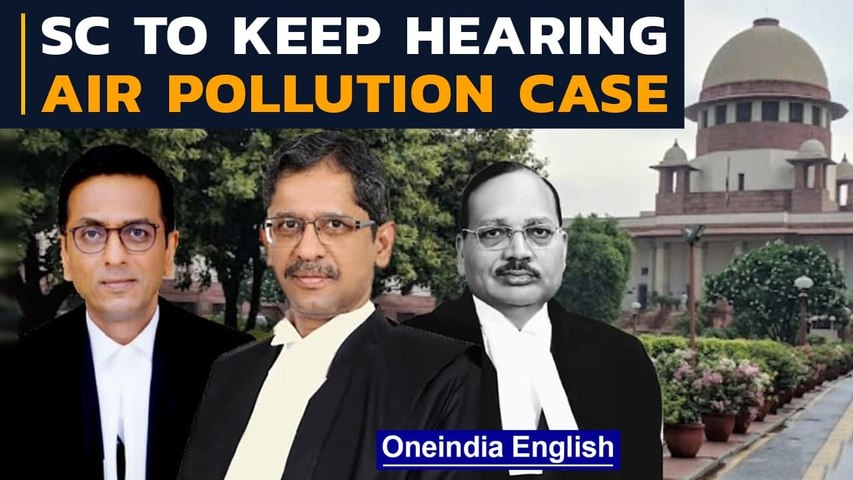 Delhi air pollution: SC to keep hearing matter, will not give final orders | Oneindia News
How are you going to tackle the stubble-burning issue? We are using our common sense in discussing this issue. What is the bureaucracy doing? Let the Secretaries decide something. Why can't they go to fields and speak to the farmers, scientists and devise a permanent solution?"
Senior advocate Vikas Singh appearing for petitioner told the Supreme Court that as per a media report this year due to polls in Punjab fines not being imposed to please farmers. To this, the court said that it isn't concerned with this issue and it can't micromanage such things. The Supreme Court will hear the case next on November 29.