PM Modi announces repeal of farm laws: Here are the reactions from opposition parties
New Delhi, Nov 19: The opposition parties have welcomed Prime Minister Narendra Modi's announcement to repeal the three contentious farm laws while slamming the government for taking such a long time to withdraw the laws - Farmers' Produce Trade and Commerce (Promotion and Facilitation) Act, 2020, Farmers (Empowerment and Protection) Agreement on Price Assurance and Farm Services Act, 2020 and Essential Commodities (Amendment) Act, 2020.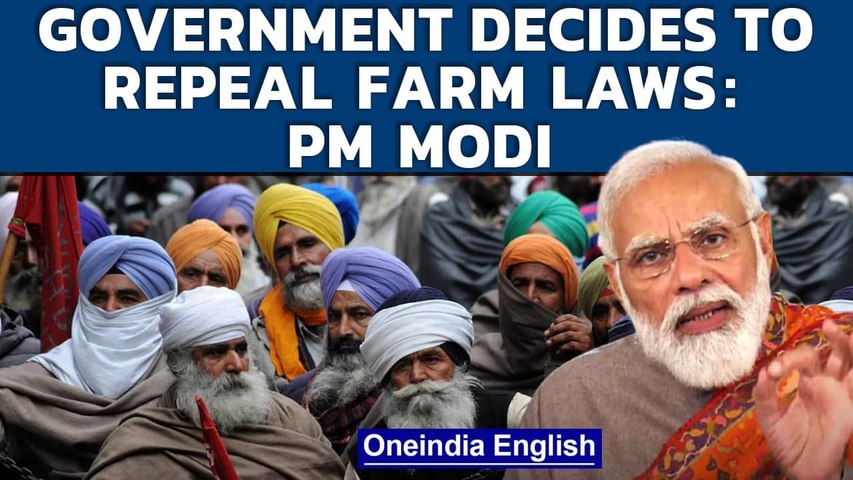 PM Modi announces government decided to repeal three farm laws | Oneindia News
Delhi Chief Minister Arvind Kejriwal termed it as a "great news". He tweeted, "What great news was received today on the day of light. All three laws were repealed. More than 700 farmers were martyred. His martyrdom will be immortal. The coming generations will remember how the farmers of this country put their lives on the line to save agriculture and farmers. I salute the farmers of my country. [sic]"
Congress leader Rahul Gandhi, who has been demanding the Centre to repeal the three agri laws, called it a "victory against injustice." He tweeted, "The country's Annadata bowed his head of arrogance with Satyagraha. Congratulations on this victory against injustice! Jai Hind, Jai Hind's farmer! [sic]"
According to senior Congress leader Chidambaram, the government was forced to take the decision in view of forthcoming assembly elections. He said, "What cannot be achieved by democratic protests can be achieved by the fear of impending elections! PM's announcement on the withdrawal of the three farm laws is not inspired by a change of policy or a change of heart. It is impelled by fear of elections! Anyway, it is a great victory for the farmers and for the Congress party which was unwavering in its opposition to the farm laws. [sic]"
My heartfelt congratulations to every single farmer who fought relentlessly and were not fazed by the cruelty with which @BJP4India treated you. This is YOUR VICTORY!

My deepest condolences to everyone who lost their loved ones in this fight.#FarmLaws

— Mamata Banerjee (@MamataOfficial) November 19, 2021
However, Captain Amarinder Singh, who quit Congress recently, thanked Prime Minister Narendra Modi over repealing the laws. He said, "Thankful to PM @narendramodi ji for acceding to the demands of every punjabi & repealing the 3 black laws on the pious occasion of #GuruNanakJayanti. I am sure the central govt will continue to work in tandem for the development of Kisani! #NoFarmers_NoFood @AmitShah. [sic]"
It's farmers' victory, who have been protesting against farm laws for so many days; over 700 died. Seems like Centre is guilty... But who'll take responsiblity for the hardships that farmers had to go through? We will raise these issues in Parliament: Congress' Mallikarjun Kharge pic.twitter.com/XKBm8uShk8

— ANI (@ANI) November 19, 2021
I welcome PM @narendramodi's decision to repeal the 03 #FarmLaws. My salute to all the farmers who put up democratic resistance against the laws. Debate and discussion is key in a parliamentary set up. Here is the speech I had made against the farm laws in the RS in Sept 2020. pic.twitter.com/7z4FDkvbiY

— H D Devegowda (@H_D_Devegowda) November 19, 2021
I wholeheartedly welcome Hon'ble @PMOIndia's decision to repeal the three anti-farmer laws.

History teaches us that people's wishes shall prevail in a democracy.

I congratulate all the farmers & bow down to their determination for having achieved this through Gandhian means.

— M.K.Stalin (@mkstalin) November 19, 2021
Farmers' sacrifice has paid off. The decision to repeal 3 farm laws should have been taken much before. Still, farmers' demand for a law on MSP is pending. BSP demands that in the upcoming Parliament session the Centre should bring a law in this regard(on MSP): BSP chief Mayawati pic.twitter.com/XvIBOljEFU

— ANI UP (@ANINewsUP) November 19, 2021
Welcome PM Narendra Modi's decision to repeal all 3 #FarmLaws, in the best interests of the country and its farmers. Your farms and families have been waiting for long and they will be happy to welcome you back. BJD continues to stand with the farmers: Odisha CM Naveen Patnaik pic.twitter.com/LLVfmrvege

— ANI (@ANI) November 19, 2021
Farmers' efforts have paid off. Given the circumstances in country, PM was forced to withdraw 3 farm laws, Today's decision was in view of UP elections. PM & BJP putting in all efforts to win polls...You never know if they get a shock like West Bengal: Rajasthan CM Ashok Gehlot pic.twitter.com/oDczDgKXGC

— ANI (@ANI) November 19, 2021
Why is he doing this? Is the nation not understanding that polls are approaching & they might've felt that situation isn't right. They can see in surveys that situation isn't right. So, they've come to apologise before polls: Congress gen secy Priyanka Gandhi Vadra, in Lucknow pic.twitter.com/uEmPIzKo1n

— ANI UP (@ANINewsUP) November 19, 2021
Farmers will continue to agitate until the laws are taken back in Parliament. MSP Guarantee Act has to be formed. This is a victory of farmers - dedicated to more than 750 farmers who died & to tribals, workers, women who became a part of this agitation: BKU leader Rakesh Tikait pic.twitter.com/WXo4HVEugm

— ANI (@ANI) November 19, 2021
Farmers won't forgive and will wipe BJP out...Laws have been withdrawn for votes as govt is scared of elections. What if they bring back such laws after polls? They are not thinking about farmers; insulted them at every level. WiIl BJP apologise?: SP Akhilesh Yadav pic.twitter.com/sGrHmy37y8

— ANI UP (@ANINewsUP) November 19, 2021
Farmers had been protesting for a yr. Many people died while agitating, BJP minister's son mowed down people in Lakhimpur. So, we are happy that this happened (laws repealed). TMC had opposed it continuously. This is the victory of farmers & the people of India: Saugata Roy, TMC pic.twitter.com/mxJHARTfrd

— ANI (@ANI) November 19, 2021
From day 1,Oppn had been saying that 3 #FarmLaws are unconstitutional. Modi Govt had no constitutional right to make such laws. These laws were formed only for the satisfaction of Modi's ego.Due to these black laws 700 farmers had to lose their lives: AIMIM chief Asaduddin Owaisi pic.twitter.com/KeBRbOAC7y

— ANI (@ANI) November 19, 2021
Anyone who believes the government repealed the #FarmLaws out of the goodness of its heart is completely mistaken. This government only responds to cold hard numbers - bypoll setback = fuel price reduction. Poor internal polls numbers for Western UP & Punjab = #Farmlawsrepealed

— Omar Abdullah (@OmarAbdullah) November 19, 2021