UK PM Liz Truss resigns after 45 days in office, successor to be elected next week
Array
London, Oct 20: Embattled Prime Minister of Britain, Liz Truss announced her resignation after six weeks in office, making her one of the shortest-serving prime minister in British history.
Recommended Video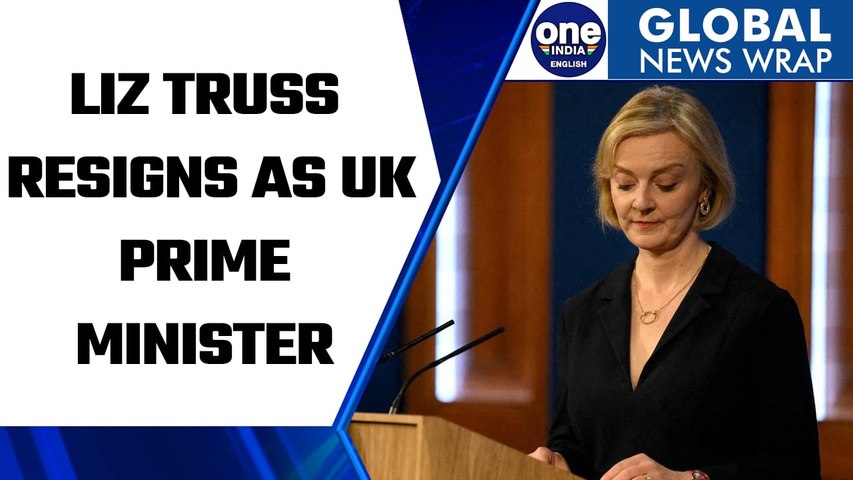 Suella Braverman the first to quit U.K. PM Liz Truss's government |Oneindia news
"I cannot deliver the mandate on which I was elected," she said speaking outside Downing Street as reported by news agency PTI. Truss said she has told King Charles she is resigning as leader of the Conservative Party.
We delivered on energy bills and on cutting national insurance.

We have continued to stand with Ukraine and to protect our own security.

And we set out a vision for a low tax, high growth economy – that would take advantage of the freedoms of Brexit. pic.twitter.com/fi6rtdBRAf

— Liz Truss (@trussliz) October 20, 2022
"I recognise though that given the situation, I cannot deliver the mandate on which I was elected by the Conservative Party," Truss said in a brief statement outside 10 Downing Street.
The 47-year-old outgoing prime minister will stay in charge until her successor is elected by the governing Tory party, with a speeded-up leadership election to be completed by next week.
UK: Truss faces grilling from MPs amid tax-cut turnaround
The beleaguered leader said she had spoken to King Charles III to notify him of her resignation and also met the 1922 Committee chair Sir Graham Brady, in charge of Tory leadership elections, who has said a new Tory leader should be in place by next Friday.
"We have agreed that there will be a leadership election to be completed within the next week. This will ensure that we remain on a path to deliver our fiscal plans and maintain our countries economic stability and national security. I will remain as Prime Minister until a successor has been chosen," added Truss.
A downcast Truss, who stepped out of 10 Downing Street with her husband, said she had taken over at a time of great instability but ultimately admitted she had failed in her mission to deliver her economic agenda.
Her resignation on her 45th day in office makes her the shortest-serving Prime Minister in Britain's history. The second shortest serving prime minister was George Canning, who served for 119 days before he died in office in 1827.
Truss, a free-market libertarian, came to power last month pledging to cut taxes to spur growth. But her ability to deliver on that commitment is now in doubt.
Within days of her being sworn in, Truss set about implementing tax cuts that several experts warned could destroy the struggling UK economy. Truss and her team believed the cuts would help propel growth by creating demand amid a largely gloomy economic outlook.
Truss had been under intense pressure to scrap some of the 43 billion pounds ($48 billion) in unfunded tax cuts that roiled financial markets and led the Bank of England to step in to prevent a wider economic crisis.
UK's PM Liz Truss reverses plan to cut corporation tax
On Wednesday, Truss lost the second of the government's four most senior ministers, faced mockery as she tried to defend her record to parliament and saw her lawmakers openly quarrel over policy, deepening the sense of chaos at Westminster.
Truss's resignation comes at a time when Britain's fiscal reputation has hit a rock bottom with the economy heading into recession and inflation at a 40-year high.
(With agency inputs)