Vastu exponent Chandrashekhar Guruji stabbed to death in Hubballi hotel; 2 arrested
Hubballi, July 5: Karnataka Police nabbed the two assailants who stabbed Vastu expert Chandrashekhar Angadi aka Chandrashekhar Guruji to death at a hotel in Hubballi on Tuesday.
Recommended Video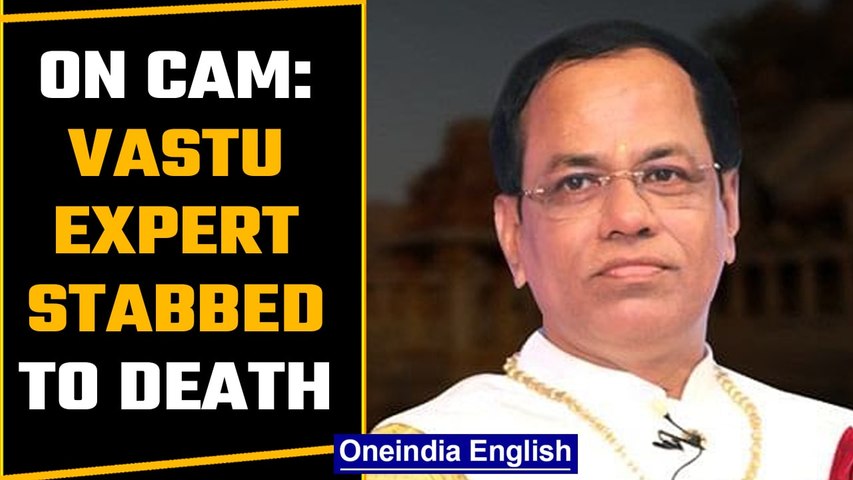 Vastu expert Chandrashekhar Guruji stabbed to death in Hubballi hotel in K'taka | Oneindia News*News
The two accused were detained by police in Ramdurg while they were trying to escape. According to the police, the accused Mahantesh Shirur and Manjunath Marewad are former employees of 'Saral Vastu' run by Chandrashekhar Guruji were detained with help of Belgaum Police while they trying to escape in a car.
"Both accused stabbed Chandrashekhar Guruji today afternoon in a hotel lobby where he was staying. He succumbed to death due to injuries. They have been detained. We had formed teams and they were working on gathering information. We shared information with neighbouring districts. The Belgaum Police detained both the accused. Our team has gone there to bring them. We will interrogate them," said Hubballi Police Commissioner Labhu Ram.
Self-styled Vastu expert Chandrashekhar Guruji was stabbed to death in a city hotel.
CCTV footage showed two people, who initially approached him pretending to greet him, repeatedly stabbing him at the reception area of the hotel. The reason behind the killing of Guruji of 'Saral Vastu' fame who sustained many stab wounds, is under investigation.
Hailing from Bagalkote, Guruji had started his career as a contractor and later got a job in Mumbai where he settled down. Subsequently, he pursued Vastu business there. Three days ago, a child in his family had died in Hubballi, for which he had come here to attend a ceremony.
Karnataka Chief Minister Basavaraj Bommai said all measures would be taken to ensure stringent punishment for the killers of Guruji. Speaking to reporters in Bengaluru, he termed it a heinous and unfortunate act, noting that it has been clearly captured in the CCTV footage.