From Prasad, Javadekar to Harsh Vardhan: List of ministers who have resigned
New Delhi, July 07: Ahead of the Cabinet reshuffle, several ministers have resigned. While some may be dropped the others may be either promoted or moved to other ministries.
Recommended Video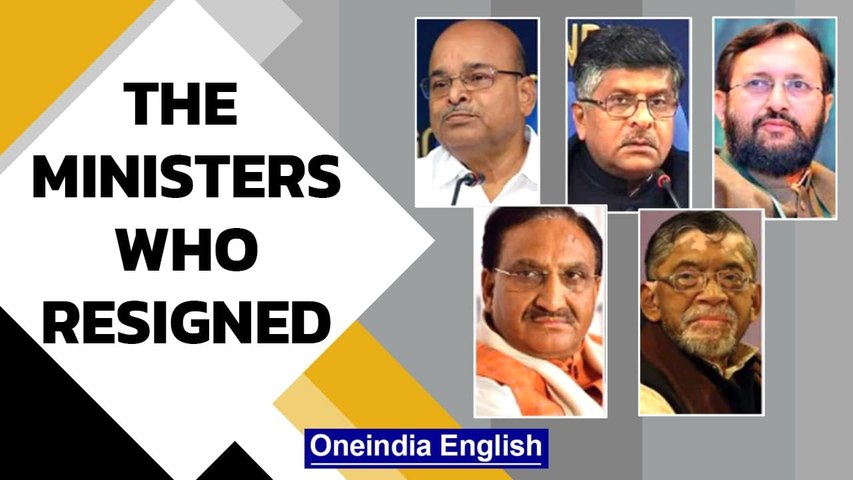 Cabinet reshuffle: Full list of ministers who resigned | Harsh Vardhan, Javadekar...| Oneindia News
Ramesh Nishank Pokhriyal, D Sadananda Gowda, Dr. Harsh Vardhan, Rattan Lal Kataria, Santosh Gangwar have resigned from the Cabinet. Minister Babul Supriyo has also resigned. Prakash Javadekar and Ravi Shankar Prasad too have resigned. The President of India has accepted the resignations of Sadananda Gowda, Ravi Shankar Prasad, Thaawarchand Gehlot and Ramesh Pokhriyal, Dr. Harsh Vardhan, Prakash Javadekar, Santosh Kumar Gangwar, Babul Supriyo, Dhotre Sanjay Shamrao,, Rattan Lal Kataria, Pratap Chandra Sarangi and Debasree Chaudhuri with immediate effect.
D.V. Sadananda Gowda
Ravi Shankar Prasad
Thaawarchand Gehlot
Ramesh Pokhriyal 'Nishank
Dr. Harsh Vardhan
Prakash Javadeka
Santosh Kumar Gangwar
Babul Supriyo
Dhotre Sanjay Shamrao
Rattan Lal Kataria
Pratap Chandra Sarangi
Debasree Chaudhuri