Does this image of Jupiter look like a 'dosa' for you too?
New Delhi, May 25: A user on Twitter posted an old image of a map of Jupiter that was created by NASA. The image has gone viral yet again.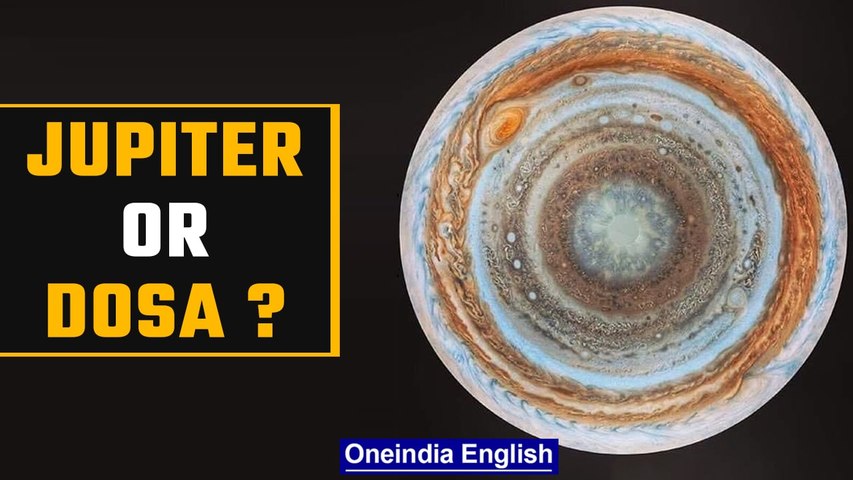 Old picture of Jupiter's map by NASA goes viral, reminds people of dosa | OneIndia News
This time however the image captured the image of netizens who likened it to the South Indian dish, Dosa.
Looking up from the very bottom of Jupiter 😲. Seen by NASA Cassini pic.twitter.com/4ibmSXO20b

— Latest in space (@latestinspace) May 20, 2022
The image was posted by a Twitter handle called Latest in Space. It was captioned, " looking up from the very bottom of Jupiter. There were several comments on the image where people said that it looked like a dosa. Take a look at some of them below.
Looks like a designer dosa.https://t.co/OT6ghUfK7M

— ג׳יקוב | |یعقوب | ജേക്കബ് | Jacob (@Jacobji01) May 21, 2022
This is what happens to my dosa on the dosa pan, when I rush to pickup a call...

— Baskaran Rathinam (@baskar39024338) May 24, 2022
Very shiny though

— ashish (@ashish16874753) May 21, 2022
Story first published: Wednesday, May 25, 2022, 11:35 [IST]