'Kisan mahapanchayat': Thousands of farmers gather in Delhi, cause huge traffic snarls | 10 points
New Delhi, Aug 22: As many as 19 farmers, en route to Jantar Mantar to participate in the farmers' Mahapanchayat, on Monday were detained by Delhi Police from Ghazipur border.
Delhi borders on high alert as farmers get set to hold panchayat at Jantar Mantar on MSP, Agnipath
Recommended Video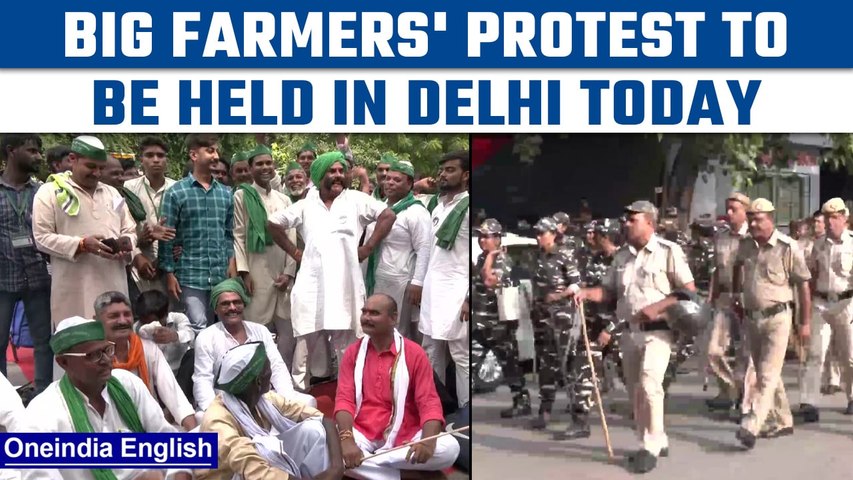 Farmers protest today: Security stepped up at Delhi Borders ahead of protest | Oneindia News*News
The farmers, who were staging a protest at the Ghazipur border, were detained when they decided to head towards Jantar Mantar.
Thousands of farmers from various states gathered at the Jantar Mantar here on Monday to take part in a "mahapanchayat" called by a farmers' body, causing massive traffic snarls in Delhi, especially at the city's borders, including Singhu and Ghazipur.
As the farmers associated with different unions reached Delhi, police put up layers of barricades at all the entry points of the city and checked every vehicle entering the national capital, which led to huge traffic jams.
Apart from the borders, including Ghazipur, Singhu and Tikri, key stretches on the Delhi-Meerut Expressway, the Palam flyover, Aurobindo Marg, Ring Road (near Indraprastha Park), the Ghaziabad-Wazirabad road and the Munirka road, among other roads, witnessed traffic snarls.
Other than Punjab, Haryana and Uttar Pradesh, farmers from states such as Karnataka, Maharashtra, Odisha and Kerala arrived in Delhi to take part in the "mahapanchayat" that was called demanding a legislation on the minimum support price (MSP) for crops, farm loan waiver and on other issues.
As thousands of farmers reached Jantar Mantar to attend a 'mahapanchayat', massive traffic jams were witnessed on Monday at Delhi border including Ghazipur and Singhu, with some of the commuters getting stuck for more than an hour amid curbs put in place by the police, officials said.
Massive traffic jam was also witnessed near on roads adjoining the borders, including, Karnal road, Libas Pur, Samaypur Badali, Narela. The police said security has been beefed up at Delhi borders due to the 'mahapanchayat' called by farmers' body.
SKM (non-political) leaders claimed that at some locations, farmers were being stopped from reaching Jantar Mantar. However, the Delhi Police denied the claim. "This is a daylong peaceful event where we will reiterate our demands such as a legal guarantee on the MSP and the cancellation of the Electricity (Amendment) Bill, 2022 among others," said Abhimanyu Singh Kohar, an SKM (non-political) member and one of the organisers of the "mahapanchayat".
Magha Nibori, a farmer from Punjab with one acre of farmland on which he cultivates seasonal crops, said he came here fully prepared to stay put, if required.
"We are poor farmers. Nobody is helping us. Nothing is being done for us. We participated in last year's (anti-farm laws) protests as well. The government had assured us that it will listen to our demands but nothing is being done. We will not hesitate to camp here, if required, to get our demands addressed," Nibori told PTI.