Sri Lanka PM Ranil Wickremesinghe retains crucial finance ministry
Colombo, May 25: Sri Lanka Prime Minister Ranil Wickremesinghe retained the crucial finance ministry, amid an economic meltdown of a scale unseen since the country's financial crisis of 1948.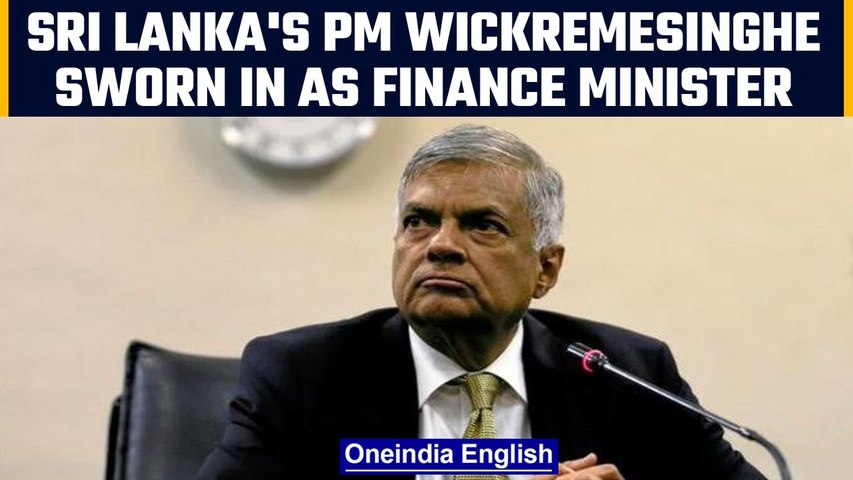 Ranil Wickremesinghe takes oath as the Finance Minister of Sri Lanka | Oneindia News
Rajapaksa, since the public protests began to rage against him for his resignation, has now reshuffled his Cabinet five times, including forcing the resignation of his elder brother and Prime Minister Mahinda Rajapaksa.
The new ministers belong to the ruling Sri Lanka Podujana Peramuna (SLPP) and its allies - the SLFP and the EPDP, a Tamil minority party in the north.
The ministers were sworn in after a delay of more than a week since the president appointed new Prime Minister Ranil Wickremesinghe. Rajapaksa reappointed five-time former Sri Lankan prime minister Wickremesinghe, after his predecessor - the president's brother Mahinda Rajapaksa - resigned in the wake of violent attacks by his supporters on peaceful anti-government protesters.
The crisis is caused in part by a lack of foreign currency, which has meant that the country cannot afford to pay for imports of staple foods and fuel, leading to acute shortages and very high prices.
Last month, the country declared its inability to service its debt amounting to USD 51 billion. In 2022, the foreign debt commitments were at USD 6 billion.
India's economic assistance package since January had kept Sri Lanka afloat in its worst economic crisis since independence in 1948. India provided credit lines for the purchase of fuel and essentials as Sri Lanka's foreign reserves depleted. New Delhi has committed more than USD 3 billion to debt-ridden Sri Lanka in loans, credit lines and credit swaps since January this year.
The political crisis was triggered in late March when people hurt by long hours of power cuts and essential shortages took to the streets demanding the resignation of the government.
with PTI inputs