Fully vaccinated Indians travelling to UK don't need to quarantine
New Delhi, Oct 7: Indians travelling to the UK fully vaccinated with Covishield or another UK-approved vaccine will not have to be quarantined on arrival from 11 October, said Alex Ellis, British High Commissioner to India.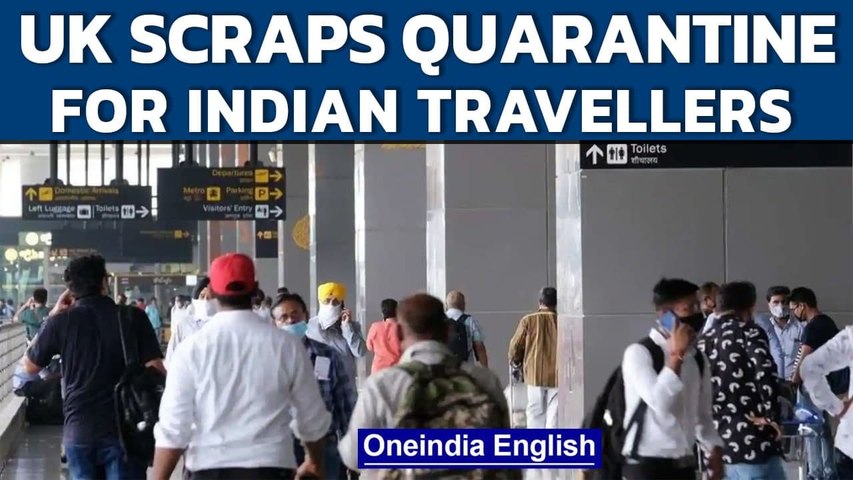 UK recognizes India's covishield, scraps Covid19 quarantine for travellers | Oneindia News
"The UK has further opened up international travel and will recognise India's vaccine certification system from October 11. The decision was taken after close technical cooperation between our ministries taking public health factors into account," said a spokesperson of the British High Commission in India.
"The extension of vaccine certification is a further step to enable people to travel more freely again, in a safe and sustainable way, while protecting public health," the spokesperson said. Those arriving before the cut off date of October 11 would still need to follow the rules for unvaccinated travellers.
The UK had earlier angered India by not recognising fully vaccinated Indian travellers as part of the new rules announced last month, despite India-made Covidshield among its listed globally eligible vaccine formulations.
The UK government's travel advisory warning against "all but essential travel" on public health grounds was updated on Wednesday to lift COVID-19 related restrictions for 32 countries, including Bangladesh and Malaysia.
India was not among the countries covered by this complete travel ban, which impacted travellers' ability to access travel insurance. The UK Foreign, Commonwealth and Development Office (FCDO) said the change means people will be able to travel to a larger number of destinations with greater ease.
"These rule tweaks will make travelling more straightforward, supporting businesses and families right across Britain - and allow more of us to see friends and loved ones with greater peace of mind," said UK Foreign Secretary Liz Truss.
India, in retaliation, imposed its reciprocal measures on all British travellers -- irrespective of vaccination status -- requiring the same level of PCR tests and 10-day quarantine at the declared destination, also effective from Monday. "We continue to work with international partners, including India, to roll out our phased approach," a UK government spokesperson said.
Last month, the UK scrapped the traffic light system of red, amber and green countries on the levels of Covid-19 risk and replaced it with one red list. The new travel rules considered fully vaccinated Indians with Covishield as unvaccinated.
Congress leader Jairam Ramesh came down heavily on the UK's government's new Covid-19 travel rules calling it "smacks of racism." He tweeted, "Absolutely bizarre considering Covishield was originally developed in the UK and The Serum Institute, Pune has supplied to that country too! This smacks of racism. [sic]"
Shashi Tharoor had also slammed the new rules.