Maharashtra: 36 died, 30 still trapped in Raigad district due to landslides and floods
Mumbai, July 23: Several regions of Maharashtra, including Ratnagiri, Satara, Kolhapur have been ravaged by incessant rainfall.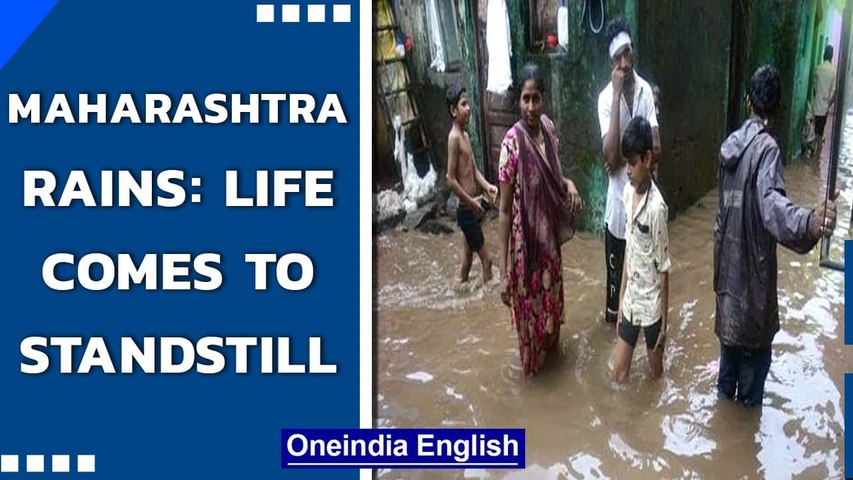 Maharashtra rains: Parts of Ratnagiri, Raigad submerged, rescue operations on | Oneindia News
''A total of 36 people died in the district due to landslides, 32 of them died in Talai and 4 in Sakhar Sutar Wadi. 30 people trapped,'' Nidhi Chaudhary, District Collector, Raigad said.
Maharashtra Chief Minister Uddhav Thackeray on Friday took stock of the situation by visiting a control room set up for the purpose, and met with officials.
''Due to landslides in Talai village, Raigad around 35 people have lost their lives. Rescue operation is underway at many places. I have ordered the evacuation & relocation of people who are living in areas where there is a possibility of landslide,'' Maharashtra CM said.
''NDRF and other rescue teams are facing problems reaching to the flood-affected areas in Chiplun as the roads and bridges are damaged. The situation remains tense,'' Thackeray further said.
Union HM Amit Shah said,''The accident in Maharashtra's Raigad due to heavy rain & landslides is very sad. I have spoken to CM Uddhav Thackeray & NDRF DG SN Pradhan in this regard. NDRF teams are engaged in relief & rescue operations. The Centre is extending all possible help there.''
Meanwhile, Union Defence Minister Rajnath Singh and Deputy Chief Minister of Maharashtra Ajit Pawar have spoken over the flood situation in the state.
Local police personnel have rescued 15 people and at least 30 people are still trapped. District Collector Raigad, Maharashtra said that four incidents of landslides were reported in the district. Rescue operations were delayed as heavy downpour has washed away the road to Kalai village.
The National Disaster Response Force (NDRF) has deployed rescue teams in Ratnagiri, Raigad, Mumbai, Thane, Palghar and other regions to carry out rescue missions.
#MaharashtraRains UPDATE
🔸Due to hvy rains in KonkanDiv
🔸Water-logging/flooding
🔸2 NDRF TEAMS REACHED
🔸Kolhapur district
🔸STARTED evac/rescue
🔸W/help of local agencies
🔸Here recent ops at
🔸Chikli,Kolhapur👇@HMOIndia @BhallaAjay26 @PIBHomeAffairs @PIBMumbai @ANI pic.twitter.com/P8prGChJ32

— ѕαtчα prαdhαnसत्य नारायण प्रधान ସତ୍ଯପ୍ରଧାନ-DG NDRF (@satyaprad1) July 22, 2021
Heavy rains likely in parts of Kerala; Orange alert issued for Ernakulam, Idukki, Kozhikode and Wayanad
Major rivers in Ratnagiri district, including Kodavali, Shastri, Jagbudi, Vashishti, Bav are flowing above the danger level. Rivers, including Patalganga, Gadhi, Kundalika, Amba, Savitri, Ulhas rivers in Raigad district are flowing above the danger level.
Meanwhile, in a telephonic conversation with Chief Minister Uddhav Thackeray, Prime Minister Narendra Modi took stock of the situation arising out of the continuous downpour and flooding and assured full cooperation from the Centre. The India Meteorological Department (IMD) has predicted heavy rainfall in the coastal region (Ratnagiri and Raigad districts) for the next three days.