8 dead in dynamite blast at railway crusher site in Shivamogga
New Delhi, Jan 21: At least eight dead after major explosion was reported in Karnataka's Shivamogga district around 10.15 pm Thursday.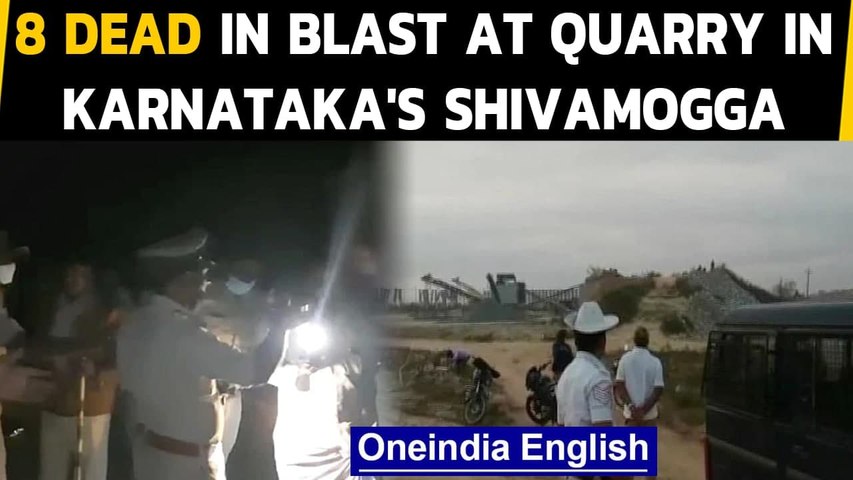 Blast at a quarry in Karnataka's Shivamogga, 8 people dead and area sealed off | Oneindia News
According to reports, the blast and vibration in Shivamogga was caused by a box of dynamite exploding at the Railway Crusher Plant near Hunasodu of the district. Over 7 workers from Bihar found dead and more casualties feared. However, the concerned authorities are yet to confirm.
According to police, at least 6 dead after major explosion of truckload of explosives, suspected to be meant for mining, in Karnataka's Shivamogga district.
Tremors were felt across Shimoga, parts of Chickmagalur and Uttara Kannada districts. No clarity yet on what caused the accident.
Shivamogga blast: Rahul Gandhi calls for in-depth investigation
Locals also reported dynamite blast in Abbalagere taluk in Shivamogga. Shivamogga Rural MLA KB Ashok Naik said six bodies have been found.
Eyewitnesses took to Twitter and social media and shared visuals of the moment when the incident happened.
Loud Sound Reported from Karnataka around 10:20 pm . Some claiming it to be IAF Sonic Boom pic.twitter.com/fIi8RIXD9Y

— Megh Updates 🚨 (@MeghUpdates) January 21, 2021
Huge sound and vibration reported in Shimoga, Karnataka at 10.20PM which was felt at about a 15-20KM Radius too - From Shimoga to Bhadrawati. People were on roads under panic. Was it an earthquake or something else? #earthquake #shimoga #Shivamogga pic.twitter.com/q1p0kEQlHU

— Nithin gowda (@NithinG36617175) January 21, 2021
Prime Minister Narendra Modi took to Twitter and extended his condolences to the victims of the blast and also assured that the Karnataka government is doing everything possible to assist the affected people.
The tremors caused due to the blast was earlier mistaken to have been caused by an earthquake, which led to some locals in nearby areas rushing out of their homes. Some geologists were approached, who ruled out recording tremors in any of their observatories. "There was no earthquake. But an explosion did take place at Hunsur on the outskirts of Shivamogga under the Rural Police station limits," a police officer told PTI.
In May last year, a loud sound rattled Bengaluru which was later confirmed by the Defence Department to have been caused by a test flight.