Chandigarh MC Election Results 2021: Ward Wise Winners' List
Chandigarh, Dec 27: New entrant Aam Aadmi Party has emerged as the leading outfit in the Chandigarh Municipal Corporation polls, winning 14 of 35 wards in the final results declared on Monday. The BJP, which enjoyed a majority in the previous MC House, came a close second registering win in 12 wards while the Congress bagged eight seats and the Shiromani Akali Dal one.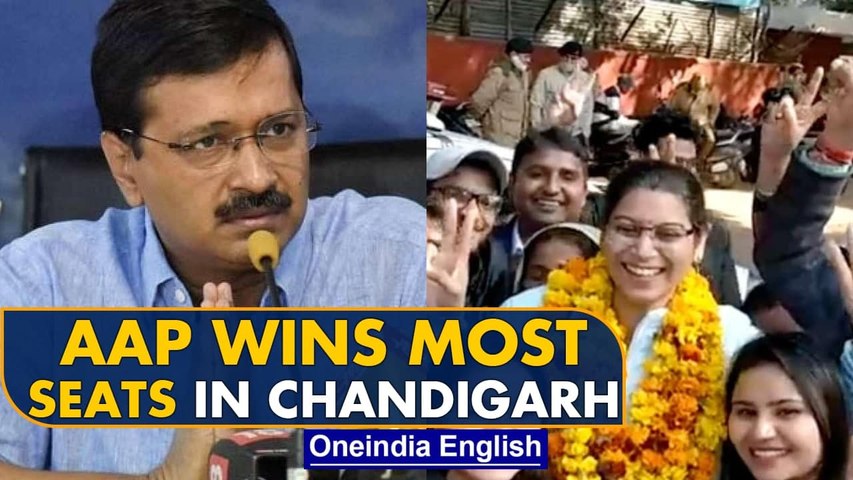 Chandigarh civic polls: AAP wins 14 seats out of 35, BJP wins 12 | Oneindia News
Current Chandigarh Mayor and BJP candidate Ravi Kant Sharma was defeated by AAP's Damanpreet Singh, who won by a margin of 828 votes in Ward No.17. AAP leader and Delhi MLA Raghav Chadha called his party's performance a "trailer" before next year's Punjab Assembly polls.
Chandigarh is the joint capital of Punjab and Haryana. This time, the number of wards in the city was increased from 26 to 35. In the last MC elections, the BJP had won 20 seats and its erstwhile ally SAD one. The Congress had managed to win only four seats.
Check Out the ward-wise winners' list:
Ward 1: Jaswinder Kaur (AAP)
Ward 2: Maheshinder Singh Sidhu (BJP)
Ward 3: Dalip Sharma of BJP (BJP)
Ward 4: Suman Devi (AAP)
Ward 5: Darshana (Congress)
Ward 6: Sarbajit Kaur (BJP)
Ward 7: Manoj Kumar (BJP)
Ward 8: Harjeet Singh (BJP)
Ward 9: Bimala Dubey wins.
Ward 10: Harpreet Kaur Babla (Congress)
Ward 11: Anup Gupta (BJP)
Ward 12: Saurabh Joshi (BJP)
Ward 13: Sachin Galav (Congress)
Ward 14: Kuljeet Sandhu (BJP)
Ward 15: Ram Chander Yadav (AAP)
Ward 16: Poonam (AAP)
Ward 17: Mahesh Sidhu (BJP)
Ward 18: Taruna Mehta (AAP)
Ward 19: Neha (AAP)
Ward 20: Gurcharanjit Singh (Congress)
Ward 21: AAP's Jasbir Singh defeats dormer mayor Davesh Moudgil
Ward 22: Anju Katyal (AAP)
Ward 23: Prem Lata (AAP)
Ward 24: Jasbir Singh (Congress)
Ward 25: Yogesh Dhingra (AAP)
Ward 26: Kuldeep Kumar (AAP)
Ward 27: Gurbax Rawat (Congress)
Ward 28: Nirmala Devi (Congress)
Ward 29: Manaur Khan (AAP)
Ward 30: Hardeep Singh (Akali Dal)
Ward 31: Lakhbir Singh (AAP)
Ward 32: Jasmanpreet Singh (BJP)
Ward 33: Kanwarjit Rana (BJP)
Ward 34: Gurpeet Singh (Congress)
Ward 35: Rajinder Sharma (BJP)
The number of wards has increased from 26 in 2016 to 35 now. Traditionally, the municipal election - held every five years - sees a locking of horns between the BJP and the Congress, but the AAP's entry made the contest this time triangular. The Bharatiya Janata Party (BJP) holds a majority in the current municipal body.
Reacting to his win, AAP's Singh said he gives credit for this victory to "my guru (Chandigarh AAP leader) Pradeep Chhabra and our role model Arvind Kejriwal... Work is always appreciated and it has paid dividends today".
Senior AAP leader Raghav Chadha, while commenting upon AAP's performance in the MC polls, said people of Chandigarh have backed "Kejriwal model of governance. And people here too want to adopt that model of governance".
Hitting out at the BJP and Congress, Chadha said, "During the past 25 years, these parties have ruled the Chandigarh Municipal Corporation. Of this, the BJP has been in power for 13 years while the Congress has remained in power for 12 years.
People were fed up with these traditional parties which failed to deliver despite being given repeated chance and they were looking for an honest, viable alternative." "These two traditional parties failed to undertake development and bring about a change in the system, which people wanted. People saw how an ordinary councillor, who used to roam on bicycle and scooter, has big farmhouses and accumulated properties, people were fed up with all this and were looking for a viable alternative," said Chadha.
"The AAP, which was fighting these polls for the first time, has done well. People gave their so much support and I thank our workers, leaders for this. And I salute the people of Chandigarh that this time they did not support traditional parties BJP and Congress and gave chance to a new, honest party," Chadha further said.
Asked if MC results in Chandigarh, which is the common capital of Punjab and Haryana, will have any impact on the upcoming Punjab assembly polls, Chadha quipped, "This is just a trailer. 'Chandigarh abhi Jhanki hai, Punjab abhi baki hai'. The mood of the people here will be seen in upcoming Punjab polls too". "People of Chandigarh have given one chance to Kejriwal, people of Punjab too will give us one chance," he added. PTI