Bengal has made up its mind for 'poriborton': PM Modi hits out at Mamata in Hooghly over 'cut money' culture
Kolkata, Feb 22: Prime Minister Narendra Modi, in his visit to West Bengal ahead of the assembly elections 2021, said that the state was ready for 'poribortan' or development now.
While addressing a public meeting in West Bengal's Hooghly, PM Modi said,''This enthusiasm and energy by all of you is sending a message from Kolkata to Delhi. Now West Bengal has made up its mind for 'poriborton' (change).''
Congress leader Rahul Gandhi slams PM Modi for ridiculing MGNREGA
The PM said that all countries that were successful in "removing poverty", there was one thing common - the development of modern infrastructure.
''Centre transfers money directly into bank accounts of farmers & poor. But monetary benefits of schemes of Bengal Govt does not reach the poor without the consent of all the 'tolabaaz' of TMC. This is why TMC leaders are becoming richer & normal families are becoming poorer,'' PM said.
Trashing Mamata Banerjee''s claim that she was fighting for "Bengali pride", Prime Minister Narendra Modi Monday accused her of neglecting the state''s culture, its icons and women, and promoting "cut money culture" to the state''s detriment.
He launched a frontal attack on the TMC government alleging it has perpetuated "syndicate raj" in all spheres of life in West Bengal where no work gets done without the common people having to pay the "cut money".
"The state government''s cut money culture has vitiated the atmosphere to such an extent that you cannot even take a house on rent without paying it....you cannot rent a house without the syndicate''s permission," he alleged.
Modi sought to blunt Banerjee''s election strategy centred around her fight for protecting "Bengali identity and pride" in its cultural traditions and icons against "outsiders". She has often called the BJP a party of outsiders from Gujarat while attacking Modi and Home Minister Amit Shah.
''I am told that Vande Mataram Bhawan, where Bankim Chandra Ji lived for 5 years, is in very bad condition. This is the same Bhawan where he brainstormed to write Vande Mataram, the poem which gave a new lease of life to the freedom struggle,'' PM Narendra Modi in Hooghly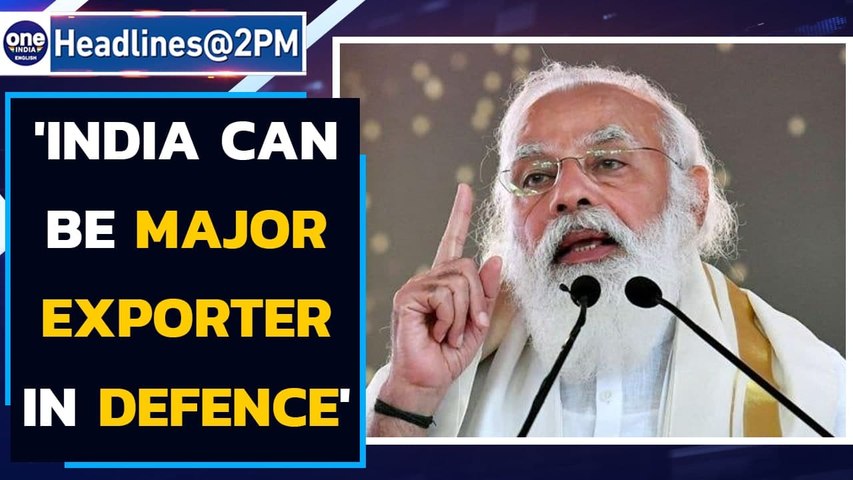 PM Modi: India can be one of the best in defence export | Oneindia News
''Failure to keep the place of the creator of such 'amar gaan' in a good state is an injustice to West Bengal's pride & there is huge politics involved in this -- the politics which focuses on vote bank, not patriotism; appeasement, not Sabka Sath, Sabka Vikas,'' PM Modi said.
Training guns at the Mamata Banerjee-led Bengal government, Prime Minister Narendra Modi said that lakhs of needy people in Bengal have not been able to receive free treatment worth Rs 5 lakh under the Ayushman Bharat scheme. "This is the kind of hurdle Mamata Ji's government has formed between people of Bengal and development," Modi said.
His comments came just two days after the TMC unveiled its election slogan--"Bangla Nijer Meyekei Chaye" (Bengal wants its own daughter)--portraying the chief minister as the ruling party''s mascot, while also reaching out to women voters and stoking sentiments of Bengali sub-nationalism.
PM Modi inaugurates Kolkata Metro extension, several other railway projects in West Bengal
Modi raised the issue of alleged slip-shod execution of the centre''s ''Jal Jeevan Mission'' in the state, aimed at providing piped water to every household, to highlight the plight of women.
"Out of 1.5 or 1.75 crore rural households only about 9 lakh have piped water. The way the state government is working no wonder if it takes years to reach piped water to the poor. The TMC is doing injustice to the daughters of Bengal. Can this be forgiven?" he said.
He claimed the state had spent only Rs 609 crore of the Rs 1,700 crore allocated to it under the ''Jal Jeevan Mission''.
Repeatedly attacking the state government, Modi said, "Development of Bengal is not possible as long as cut money culture, tolabaji persists.
"Development of Bengal is not possible as long as the state administration patronises goondas, development of Bengal is not possible as long as the rule of law is not established."
Modi said once the BJP forms its government in Bengal, people will be able to preserve and promote their culture and nobody will be able to scare or suppress them.
He said there was no dearth of potential investors but the threat of the syndicate and cut money dissuaded them from investing in the state.
In West Bengal, ''syndicate'' typically refers to a group of businessmen backed by the ruling party who operate mainly in those areas of the state that are witnessing a realty boom from whom construction material has to be mandatorily bought. They have allegedly expanded their influence to control other activities as well.
"The people of West Bengal have made up their mind to usher in ''asol poribartan'' (real change). The BJP will give Bengal a government that will ensure development of all but appeasement of none," he asserted.
The BJP has been accusing the ruling TMC of appeasing the state''s Muslims for "vote bank politics".
The prime minister later inaugurated the extension of Kolkata Metro Railway from Noapara to Dakshineswar, revered for the over 160-year-old temple of Goddess Kali, apart from other railway projects in West Bengal.
"Our pledge for self-reliance and self-belief will be strengthened with betterment of transport facilities.
"I am happy that the ''Made in India'' mark is clearly visible in all projects of the country, whether it is the Metro or the railway system," the prime minister said.