Air India Express crash: What we know about flight IX 1344
New Delhi, Aug 07: An Air India Express plane coming from Dubai overshot the runway at Kozhikode airport in Kerala on Friday evening, an airline spokesperson said. The flight -- IX 1344 -- landed at the airport at around 7.40 pm.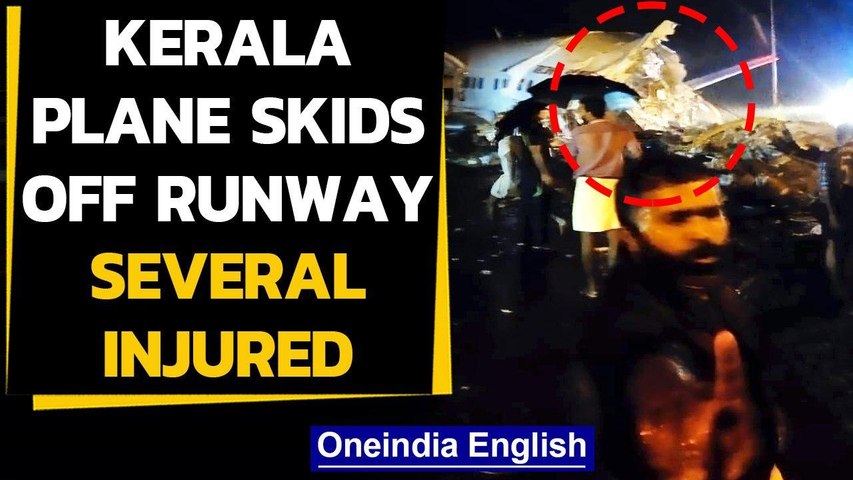 Kerala plane overshoots runway, splits in 2 | Oneindia News
The pilot who lost his life in the ill-fated Kozhikode air crash
Here's what we know so far details
An Air India Express flight with 191 passengers and crew skidded off the tabletop runway and fell into a 50 feet valley breaking into two portions while landing.
The flight from Dubai was part of the Centre's repatriation flights under the Vande Bharat Mission.
Many people have been rushed to the nearby hospitals,the condition of some of them is said to be serious.
After landing at Runway 10, the flight continued running to end of the runway and fell down in the valley and broke into two portions, a statement by DGCA said.
The passengers include 174 were adults, 10 children, 2 pilots and 4 cabin crew.
The Chief Minister has asked all the government agencies to engage in rescue operations using all government facilities.
The CM Vijayan has also deputed A C Moideen, minister for local bodies, to coordinate the rescue operations.
AC Moideen has already left for Karipur from Thrissur. The CM also has deputed an IG of Police to oversee the rescue operation. Fire and Rescue teams of two districts also have been engaged.
2 NDRF teams have been despatched.
11 people have died in Kerala air crash, including a mother and a child, says Kerala Health Minister KK Shailaja.
We are deeply saddened by the tragedy of Air India Express Flight No IX 1344 at Kozhikode. MEA helplines are open 24x7: 1800 118 797, +91 11 23012113, +91 11 23014104, +91 11 23017905. Fax: +91 11 23018158. Email: covid19@mea.gov.in.
Prime Minister Narendra Modi spoke to Kerala CM Pinarayi Vijayan on phone about the Karipur plane crash.
According to Air India, there were 190 people on board the Air India Express flight AXB1344 including 174 passengers, 10 infants and four crew members. Air India Express is a subsidiary of state-run airline Air India.
"Air India statement: Air India Express flight IX 1344 operated by B737 aircraft from Dubai to Calicut overshot runway at Kozhikode at 1941 hrs tonight. No fire reported at the time of landing. There are 174 passengers, 10 infants, 2 pilots and 4 cabin crew on board the aircraft," the national transporter said in a statement.
Home Minister Amit Shah, who is recuperating at a Gurugram hospital, ordered National Disaster Response Force teams to rush to the airport to help with the rescue operations.
Four hours after the crash, Kerala police officers said two people were still trapped and the operation to pull them out was still on.
Confirming that there were 17 deaths, Malappuram District Collector K Gopalakrishnan told the media that 110 people were admitted to hospitals in Kozhikode and 80 to hospitals in Malappuram.
The civil aviation ministry's accident investigation division Aircraft Accident Investigation Bureau (AAIB) will conduct a detailed investigation into the Air India Express flight crash at Kozhikode airport in Kerala.