Lakhimpur Kheri violence: Rahul Gandhi, Priyanka meet victims' families
Lucknow, Oct 06: After high-drama at Lucknow airport, Congress leader Rahul Gandhi along with Priyanka Gandhi arrived at Lakhimpur Kheri and met the grieving families.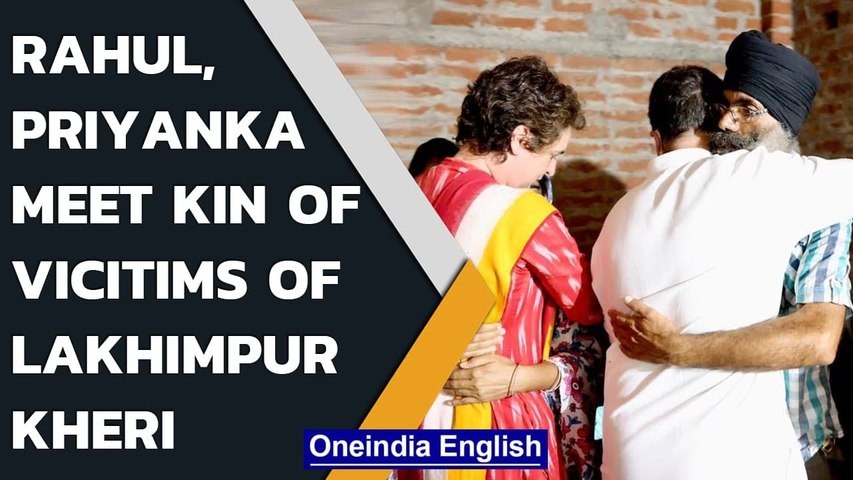 Lakhimpur Kheri: Rahul Gandhi, Priyanka Gandhi Vadra meet families of vicitims | Oneindia News
Chhattisgarh Chief Minister Bhupesh Baghel, his Punjab counterpart Charanjit Singh Channi and Deepender Singh Hooda were part of the delegation that met the bereaved family.
The Congress leaders drove to the Chaukhada farm residence of deceased Lovepreet Singh, spoke to the bereaved family members and conveyed their deepest condolences to them.
इन आँसुओं को पोंछना था हमें
गले लगाकर भरोसा दिलाना था हमें।
वो लगा रहे थे तरकीबें रोकने की,
मगर इनके दर्द ने रुकने न दिया हमें।#NyayHokarRahega pic.twitter.com/3P1rxZmTup

— Congress (@INCIndia) October 6, 2021
Gandhi left for Lakhimpur Kheri from the Lucknow airport in his own vehicle after staging a brief dharna on initially being asked to travel in a police car. Television footage from the airport showed officials telling Gandhi to take the police vehicle, which he did not agree to and sat on a dharna there.
"We want to go in our own vehicles, but they want that we should go in their vehicle. I want to know why are you not allowing me to go? First, I was told that I can go in my own vehicle, now you are saying that you will go in a police vehicle. They are doing some mischief," Gandhi told reporters.
Responding to a question, he said, "You can put me or Priyanka in a jail. It does not have any meaning. The question is that six people were crushed by criminals. Those who should have been in a jail, are not being put in a jail. We are being stopped from meeting the aggrieved families of the farmers."
The Uttar Pradesh government on Wednesday has permitted Congress leaders Rahul Gandhi and Priyanka Gandhi to visit Lakhimpur Kheri, where four farmers lost their lives in a violent incident on Sunday.
"The state government has given permission to Congress leaders Rahul Gandhi, Priyanka Gandhi and three other people to visit Lakhimpur Kheri," the Home Department, Uttar Pradesh Government said on Wednesday.
On Sunday evening, a jeep owned by Union minister of state for home Ajay Mishra mowed down a few farmers, triggering violence which killed eight, including four farmers. Since then, the political leaders from opposition parties across the country formed a beeline to meet the victims' families, but the UP government denied permission to enter Lakhimpur Kheri.
However, the TMC leaders dodged the police and met the families of four farmers killed in the violence on Wednesday.